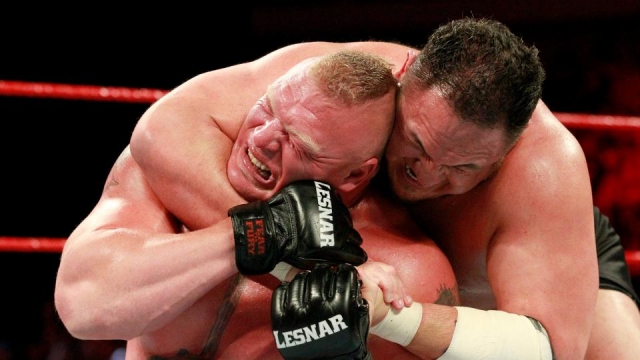 WWE Universal Champion Brock Lesnar retained his title in a brutal six-minute match against Samoa Joe. Unlike usual matches, the Number 1 Contender Joe had the upper hand through most of the match, even though he was the victim of six German suplexes from the hands of Lesnar.
Joe's momentum began even before the match started, when he launched an attack on Lesnar and slammed him on the announce table before the bell sounded off. Lesnar was also subjected to three Coquina clutches (a submission move where the opponent chokes you out), but managed to regain his composure to F5 Joe and retain the title in a six-minute brawl.
But the highlight of the evening was the match between Braun Strowman and Roman Reigns. The two wrestlers have had an intense keyfbe rivalry since the beginning of the year. The two men competed in an Ambulance match, where the loser is put into an ambulance and driven away by the opponent. Although the much larger Strowman won the encounter, Reigns after match antics, took a number of fans back to the Attitude Era – a period in WWE (then called WWF) where anything went.
Reigns assaulted Strowman and even drove the ambulance over him, much to the shock of fans at the event. As people came to aid the bigger man, Strowman shoved them away, and walked out of the arena, even though badly injured.
The move is a bold one by WWE, given Reigns has so far been a babyface and Strowman has been considered a heel (the bad guy). But this move could change things around.